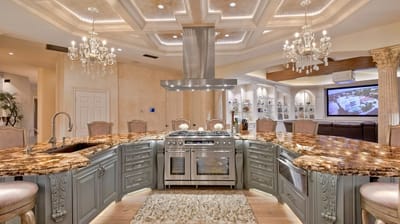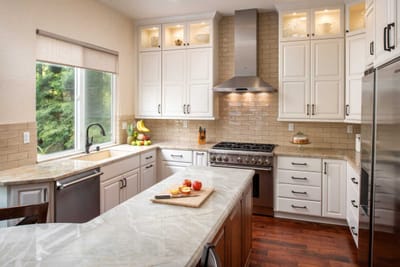 Great Kitchen Remodeling Tips
The kitchen is the center of your family's everyday life. That is why your day begins and probably ends. When you're are not out for work or other commitments, it's probably the part of your house where you spend most of your time. That shows how important and integral the kitchen is. Again, this is a place, if not well maintained, can cause great havoc; food contamination, accidents, and even breakage of expensive cutlery.
Therefore a Kitchen remodeling Houston Company you hire should focus on making it a safe, appealing, and a place of ultimate comfort. Continue reading and see some of the remodeling tips that will make your kitchen look stunning
Be Careful With An Island
An island forms a great tip when it comes to remodeling your kitchen. This is the spot where you place your foodstuffs and sometimes used as a dining area. However, it takes a lot of space and thus before you think of mounting one, your Kitchen remodeling Houston expert should advise on the best size. A small kitchen may look so narrow with an island so it is important to try one that works well with your space before you buy it. If there's no space for one, then a trolley maybe your other option.
Some Mini Office
Think about having some mini office in your kitchen. Sometimes, you want to prepare a meal and at the same time do some work on your laptop. Thus a small office becomes an incredible ingredient when thinking of a remodel. The small office will help you handle multi-tasks while at the comfort of your chair. Your Kitchen remodeling Houston should help you create some space and a small sitting area with a computer station- get also some shelves where you can store your paperwork.
Storage Racks
This is a great idea for those with limited space in the kitchen. While remodeling your kitchen, the Kitchen remodeling Houston expert should help you think about how you can create more space through the under-cabinet storage racks. Even if your kitchen is small, more storage options will make it look neat and elegant. The under-cabinet storage racks will help you store some kitchen utensils and therefore creating space. The Kitchen remodeling Houston expert should help you get the right size and one that fits your budget.
The Backsplash
Kitchen backsplashes are oftentimes kept empty and therefore can serve as a great spot for installing a rack. It offers stylish and easy access. For instance, a backsplash made of stainless steel will improve the aesthetics of your kitchen, and offers more space for storage of your utensils. The Kitchen remodeling Houston experts understand this better and should advise you on the best options.
Think About Recycling
After you have used the kitchen utensils and other appliances for more than a year, most of them will look odd and in bad condition. You don't have to throw them away. When doing remodeling, the Kitchen remodeling Houston expert should help you to recycle them by putting them in a separate container or drawer for easy access. You may need these at some point and therefore create some and store them separately.
Your kitchen will tell how organized you are. That is why you must get deliberate in the kind of remodeling you want to be done. Get a reliable Kitchen remodeling Houston Company who has the experience in delivering excellent results.
When it comes to kitchen remodeling in Houston, TX, E & L Star Construction Inc. is a name you can trust. We offer you effective kitchen remodeling solutions that fit your lifestyle and your budget as well. Our team of experts is dedicated to offer you the best services that help you to build the kitchen of your dreams.
E & L Star Construction Inc. are highly capable of dealing with some of the most critical issues in bathroom remodeling. Our experience and an innovative approach have helped us solve the most severe of problems when it comes to remodeling bathrooms. We would not rest until you get the perfect kitchen for your home. We don't like to leave anything to chance and that's the reason why we don't compromise on anything. At E & L Star Construction, you get the best services at the best prices.